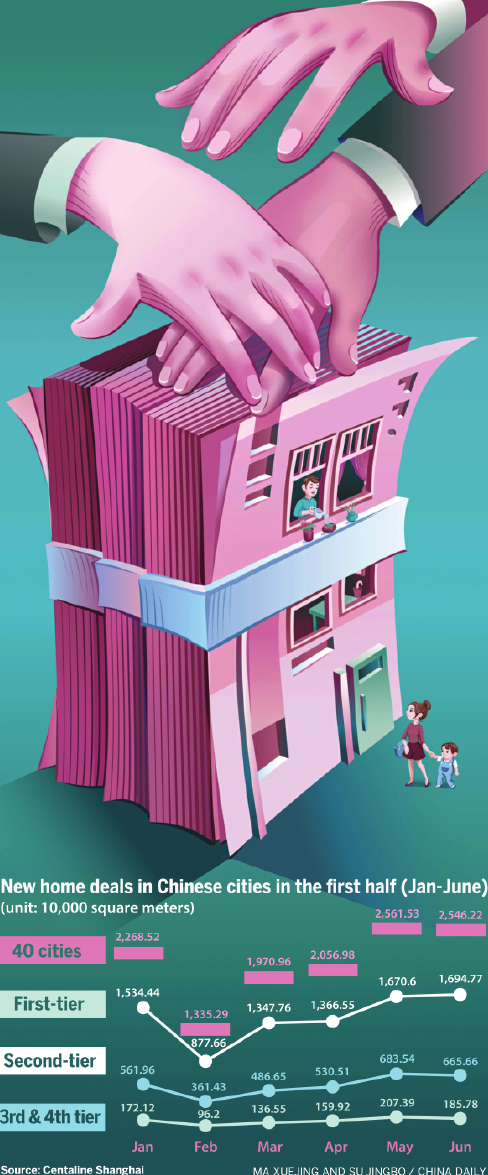 New home deals in Chinese cities in the first half (Jan-June). MA XUEJING/SU JINGBO/CHINA DAILY
Fresh moves seek to sustain cleanup of residential sector amid restructuring
"There won't be any letup, we'll press on with crackdowns and policy tightening until your reform is inside out"-that could well have been the latest message sent by China's authorities to the seemingly recalcitrant property sector.
Last month, local governments across China rolled out additional, and stricter, policies to rein in home prices that threatened to spiral out of control again.
"The aim of this real estate reform is to ward off risks in the property sector that has attracted huge capital and public attention. This is crucial to China as the country is undergoing economic restructuring," said Lu Wenxi, a researcher from property consultancy Centaline Shanghai.
Agreed Zhang Dawei, chief analyst at Centaline Beijing. "By analyzing the National Bureau of Statistics data on home prices in 70 major Chinese cities in June, we found that about 92 percent of the 70 cities saw their new home prices and preowned home prices increase to the highest level since October 2016."
Zhang's reference was to the recently-published NBS data on first-half investments and sales relating to the real estate sector. NBS data showed investment in property development totaled 5.55 trillion yuan ($819.6 billion) from January to June, up 9.7 percent year-on-year. Residential property investment accounted for 70.2 percent, up 13.6 percent to 3.9 trillion yuan year-on-year.
Residential sales revenue soared almost 15 percent in the first six months this year. This is significant because it contrasts with a 3.2 percent drop in revenue from office realty sales and just a 5.7 percent rise in the commercial property sector.
Home prices in some, not all, big cities surged in spite of strict measures last year that checked runaway speculative investments. For example, in Beijing, one square meter of a new home sold for an average 53,107 yuan in June, 21 percent higher than the 43,891 yuan level at the beginning of 2017, but off the peak off 56,617 yuan in September, which receded to 50,990 yuan in January post-crackdown.
Similarly, in Shanghai, one square meter of a new home sold for an average 50,874 yuan in June, almost 9 percent higher than 46,782 yuan at the beginning of 2017, but a tad higher than the previous peak of 49,648 yuan in December; but post-crackdown, it fell to 42,544 yuan in February.
Similarly, in a tier-2 city like Hangzhou in Zhejiang province, the corresponding average price in June was 28,518 yuan per sq m (as against 21,829 yuan at the beginning of 2017, 28,162 yuan at the previous peak in October 2017, and 25,030 yuan in December after the crackdown).