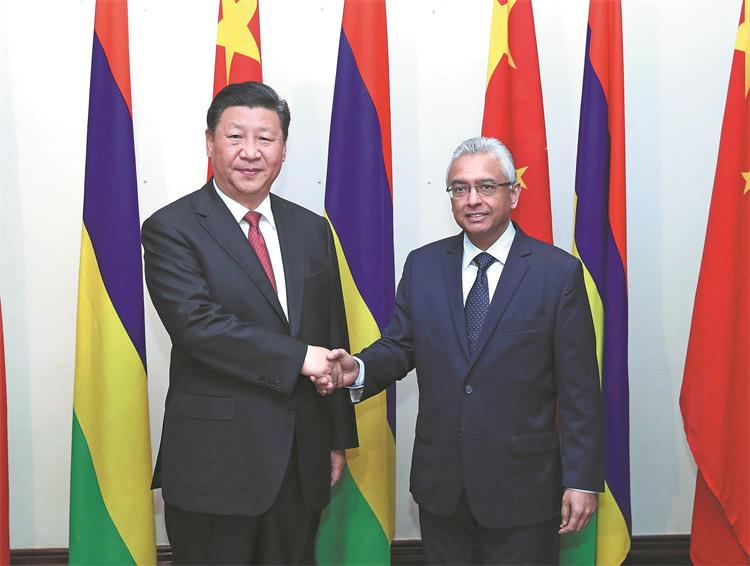 President Xi Jinping meets Mauritian Prime Minister Pravind Jugnauth in Mauritius on Saturday. Earlier, Xi paid state visits to the United Arab Emirates, Senegal, Rwanda and South Africa, and attended the 10th BRICS Summit in Johannesburg. PANG XINGLEI / XINHUA
Xi's 11-day Mideast, Africa tour boosts pragmatic cooperation, diplomat says
President Xi Jinping arrived in Beijing on Sunday after wrapping up a visit to the Middle East and Africa — his first overseas trip after being re-elected president in March.
The visit opens new prospects for South-South cooperation — a phrase used to describe ties between emerging economies — and promotes the building of a community with a shared future for mankind, said State Councilor and Foreign Minister Wang Yi.
During his 11-day trip, Xi paid state visits to the United Arab Emirates, Senegal, Rwanda, South Africa and made a friendly visit to Mauritius during a stopover. He also attended the 10th BRICS Summit in Johannesburg.
Xi's visit to the UAE is his first to the country, and the first visit by a Chinese head of state in 29 years.
During the visit, the two countries established a comprehensive strategic partnership, and they signed a memorandum of understanding on implementing the Belt and Road Initiative.
Xi's UAE visit is living proof of China's constructive policy toward Arab states, Wang said.
During his African tour, Xi said that no matter how the international situation changes, China will continue to uphold its African policy backed by concepts of sincerity, concrete results, affinity and good faith.
During the visit, China and the four African nations agreed to bolster the alignments of their development strategies and further tap their economic strengths.
Senegal and Rwanda signed memorandums of understanding with China on the Belt and Road Initiative, and Mauritius reached agreement with China to sign the cooperation accord on the initiative at an early date.
Senegal is the first West African country to sign a Belt and Road cooperation document with China, and it is expected to have a leading effect in the region, said Wang.
During his visit, Xi and his African hosts saw the signing of some 40 cooperation documents, he added.
At every stop along his African tour, Xi was given grand welcome ceremonies by the governments and was received with exceptional hospitality by the local people, which is valid proof that China's role in Africa is by no means neocolonial in nature, Wang said.
While addressing the BRICS Business Forum in Johannesburg on Wednesday, Xi said the next 10 years will be a crucial time in which new global growth drivers will take the place of old ones.
Xi called for building an open economy, rejecting unilateralism and protectionism, and boosting international exchanges and cooperation in innovation.
The Johannesburg summit has yielded fruitful outcomes, with the BRICS countries confirming they would forge a partnership in the new industrial revolution.
The establishment of such a partnership will become a flagship project that will push forward cooperation among the BRICS countries, Wang said.
The BRICS summit also invited other developing countries including other emerging economies and African nations to participate in the "BRICS Plus" dialogue on Friday, further expanding BRICS' circle of friends and strengthening the partnerships between BRICS members and African countries, Wang added.
It has been a historic visit during which China has strengthened strategic cooperation with developing countries and emerging economies, Wang said.
Xinhua contributed to this story.