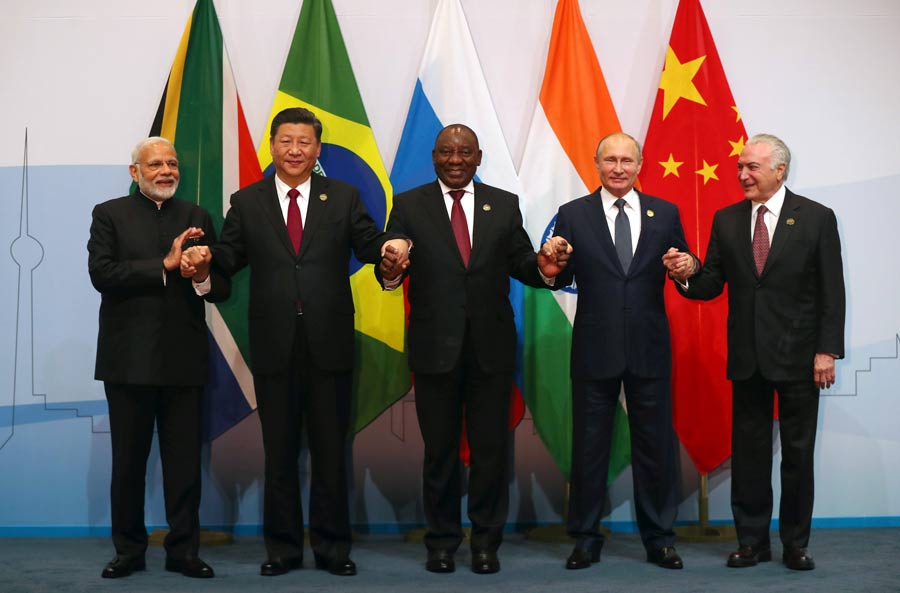 At the 2018 BRICS Summit in Johannesburg on Thursday, (from left) Indian Prime Minister Narendra Modi, President Xi Jinping, South African President Cyril Ramaphosa, Russian President Vladimir Putin and Brazilian President Michel Temer join hands for a group photo. MIKE HUTCHINGS / REUTERS
Summit speech urges joint efforts to 'unlock enormous potential'
BRICS member countries should deepen their strategic partnership and enhance cooperation in such areas as trade, investment, finance and interconnectivity, President Xi Jinping said on Thursday.
In his speech at the opening of the BRICS Summit held in Johannesburg, Xi said that BRICS countries should push forward free trade, facilitate investment and firmly oppose protectionism.
The BRICS countries — Brazil, Russia, India, China and South Africa — should safeguard the multilateral trading system under the framework of the United Nations, the G20 and the World Trade Organization, Xi said.
"We must unlock the enormous potential of our economic cooperation," he said, adding that closer economic partnerships for shared prosperity is the top priority for BRICS.
China will carry out a project to enhance human resources cooperation, invite experts from the five countries to draft a blueprint for working together in a new industrial revolution and improve the competitiveness of emerging markets and developing countries, Xi said.
He called on BRICS members to uphold multilateralism, safeguard the principle of the UN Charter, encourage all parties to resolve disputes through coordination and jointly build a new type of international relations.
It is important for BRICS countries to continue to pursue innovation-driven development and strengthen coordination on macroeconomic policies, Xi said, adding that BRICS members should reinforce their efforts to renew and upgrade economic drivers.
Noting that new global growth drivers will replace old ones in the coming decade, he said several problems remain, such as north-south development imbalances.
Xi pointed out that the growth of emerging markets and developing countries are still being influenced by regional conflicts, unilateralism and protectionism.
BRICS countries should deepen people-to-people exchanges and enhance cooperation in areas including culture, education, health, sports and tourism, Xi said.
The five member countries set up the BRICS Plus cooperation mode during the BRICS Xiamen Summit held in China in September, he said, adding that BRICS' "circle of friends" should be continuously expanded.
BRICS countries should strengthen cooperation to make the second golden decade a reality, Xi said.