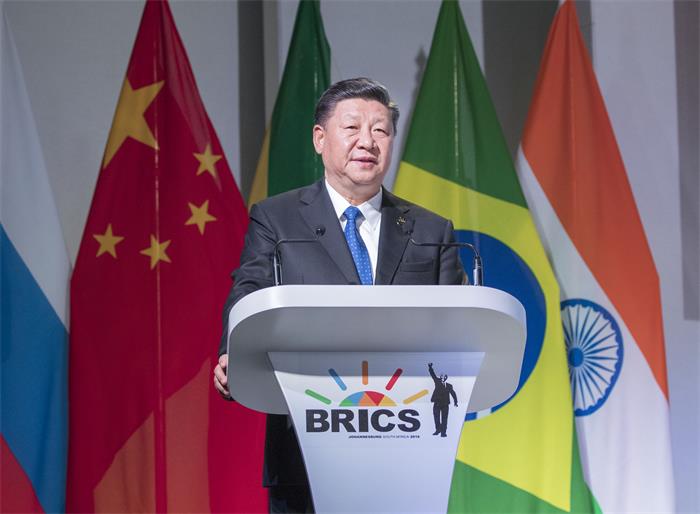 President Xi Jinping addresses the BRICS Business Forum held in Johannesburg on Wednesday. He said it is an irreversible trend for emerging markets and developing nations to rise over the coming years. [Photo/Xinhua]
BRICS corporate forum discusses shared challenges
President Xi Jinping has called for joint efforts with BRICS members to build a more open global economy and oppose trade protectionism.
Xi made the remark while addressing the BRICS Business Forum held in Johannesburg on Wednesday.
More than 1,000 delegates from BRICS member countries — Brazil, Russia, India, China and South Africa — attended the gathering.
"A trade war should not be waged because no one will benefit from that," Xi said, adding that economic hegemony should be resisted as it harms the common interests of the international community.
BRICS countries should firmly oppose trade protectionism, promote free trade and investment facilitation, and help emerging markets and developing nations to play their part in the global market, Xi said.
The next decade will be a key period for global economic growth, Xi said, adding that it's an irreversible trend for emerging markets and developing nations to rise over the coming years.
During the BRICS Xiamen Summit held in China in September, BRICS members agreed to deepen strategic partnerships, strengthen cooperation on issues related to the economy, trade, politics, security and people-to-people exchanges, and set up the BRICS Plus platform, Xi said.
South African President Cyril Ramaphosa said in his speech that BRICS leaders are gathering at a time when "the multilateral trading system is facing unprecedented challenges".
"We need to increase investment between BRICS countries, particularly in the productive sectors of our economies," he said.
The business forum has become an important and vital platform for cooperation between BRICS members, he said, adding that intra-BRICS cooperation has been gaining momentum in many areas including economy, health and culture.
The BRICS Business Forum is part of the 10th BRICS Summit, themed "BRICS in Africa: Collaboration for Inclusive Growth and Shared Prosperity in the 4th Industrial Revolution".
In line with the theme, the event aimed to discuss the evolving global political economy and its implications for BRICS members, BRICS' role in trade and investment facilitation, promoting intra-BRICS cooperation, and fostering BRICS-Africa partnerships.
At the BRICS Business Council's annual plenary session on Monday, the council's chairman, Iqbal Surve, called on business leaders in the five member countries to build a community of shared interests and further implement the Strategy for BRICS Economic Partnership.
Petrus de Kock, director of research at the Brand South Africa consultancy, said in an interview that experts failed to foresee that BRICS would become such an important bulwark in defense of economic globalization, free trade and collective climate action in just a decade's time.
Speaking at a news conference on Tuesday in Johannesburg, South African Finance Minister Nhlanhla Nene said that current trade tensions pose one of the biggest challenges to strong and sustainable growth, adding that South Africa is opposed to a protectionist approach.
Xinhua contributed to this story.
Contact the writers at anbaijie@chinadaily.com.cn