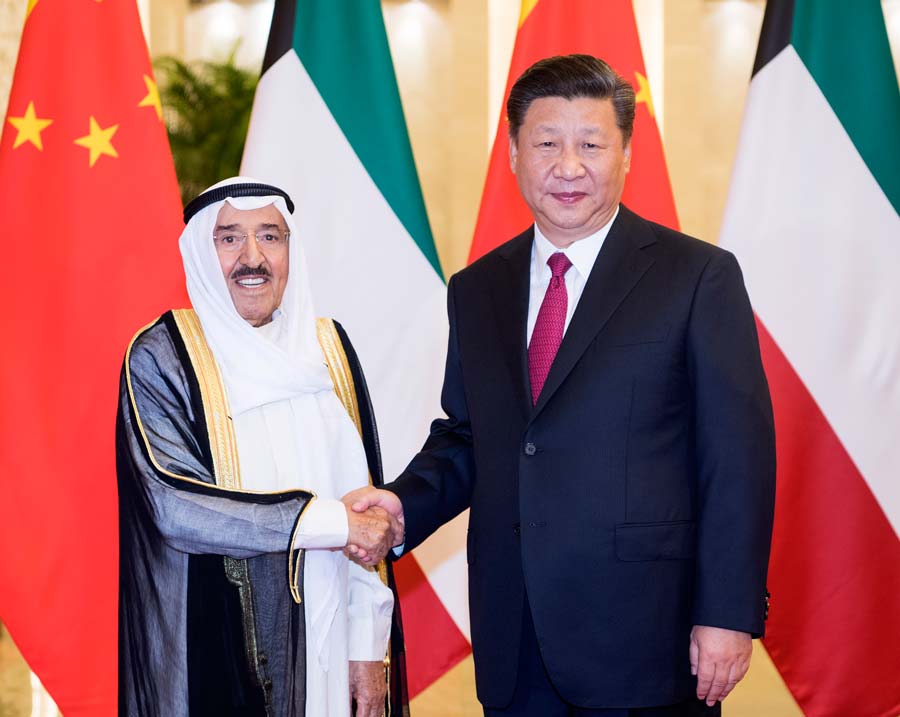 President Xi Jinping greets Kuwaiti Emir Sheikh Sabah AlAhmad AlJaber AlSabah at the Great Hall of the People in Beijing on Monday. The two countries agreed to establish a strategic partnership. LI XUEREN / XINHUA
President urges cooperation in energy, finance, investment
China and Kuwait should enhance the connection of development strategies and expand cooperation in such areas as energy, finance, infrastructure, trade and investment, President Xi Jinping said on Monday.
Xi made the remark while meeting with Kuwaiti Emir Sheikh Sabah Al-Ahmad Al-Jaber Al-Sabah in Beijing.
The two leaders witnessed the signing of a number of cooperation documents between China and Kuwait. The two countries also issued a joint declaration on building a strategic partnership.
The Kuwaiti emir is making a state visit to China at Xi's invitation. The two leaders will jointly attend the opening ceremony of the eighth ministerial meeting of China-Arab States Cooperation Forum in Beijing on Tuesday.
China deems Kuwait an important partner to jointly build the Belt and Road in the Gulf area and maintain regional stability, Xi said.
Xi called on the two countries to deepen political mutual trust and support each other's core interests. China would like to enhance communication and coordination with Kuwait and jointly promote regional peace and stability, he said.
Calling the Kuwaiti emir an old friend of the Chinese people, Xi said that he is the Gulf area leader who has visited China the most times. It is the Kuwaiti emir's seventh visit to China.
China and Kuwait have been good friends in times of need, Xi said, adding that the Kuwaiti emir visited China twice during the Gulf War in the 1990s.
China firmly supports Kuwait's efforts to safeguard national independence, sovereignty and territorial integrity, Xi said.
Xi said that when he served as vice-mayor of Xiamen, and was in charge of infrastructure construction in the 1980s, Xiamen's airport was built with a loan from Kuwait.
It was China's first airport built with a loan from a foreign government, which has symbolic significance for China's reform and opening-up as well as modernization, Xi said.
The China-Arab States Cooperation Forum is an important platform for China-Arab cooperation, Xi said, adding that Kuwait plays a special role in the forum.
The Kuwaiti emir said that Kuwait is proud that it established diplomatic relations early with China, and Kuwait cherishes its cooperative ties with China in all areas.
China is widely recognized by the world as a country that loves peace, and Kuwait speaks highly of China's efforts to uphold justice in international affairs, he said.
The Kuwaiti emir said that Kuwait firmly upholds the one-China policy. He said he had led an unprecedentedly large delegation to China, and Kuwait would like to enhance cooperation with China in areas including politics and economy.
Contact the writer at anbaijie@chinadaily.com.cn