"It's been very, very difficult to be able to balance our income with our expenses under the burden of the tariff," said Hudson.
by Xinhua writers Wang Wen, Liu Yanan, Zhang Yichi
NEW YORK, Nov. 16 (Xinhua) -- As the southern U.S. state of Georgia entered the pecan harvest season, local growers are anxious instead of cheerful, faced with dim business prospect following the loss of their largest overseas market in China due to massive tariffs.
TARIFFS HURT GROWERS
Randy Hudson, a pecan grower in Ocilla, Georgia, started harvesting the variety "Desirable" in mid-October.
The variety, known for its large, well-filled nuts sold at good prices, used to be Chinese buyers' favorite. With fast shipment and proper processing, the "Desirable" nuts were usually fast sellers during the shopping season of the Chinese New Year.
This year, however, Hudson has to look for domestic or other foreign buyers to take his products.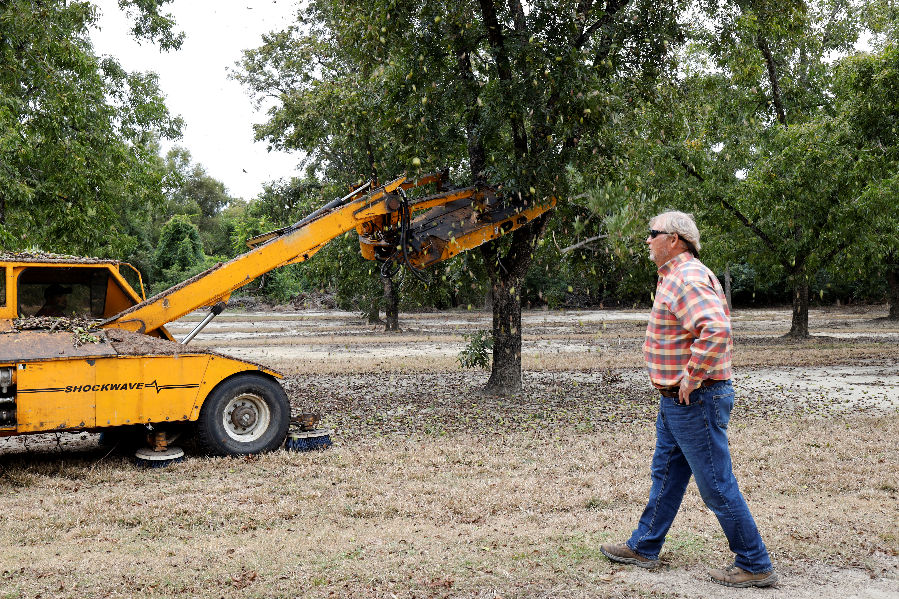 Pecan grower Randy Hudson is pictured as pecans are shaken off the tree in one of his orchards near Ocilla, Georgia, the United States, Oct. 24, 2019. (Xinhua/Li Muzi)
After the United States unilaterally imposed massive tariffs against Chinese imports from last year, China added retaliatory tariffs on U.S. goods, making pecans subject to around 47 percent tariffs currently, up from 7 percent in early 2018.
In 1999, Hudson brought the nuts to the Chinese market at a time when Chinese consumers knew little about pecans native to the United States and often confused them with walnuts.
But now, he and his fellow pecan growers and exporters, as well as their Chinese partners, have managed to grow the business in China, with an increasing number of consumers interested in the nut's health benefits.
Before the additional tariffs took effect, Hudson's company exported 10-20 million pounds (4,500-9,000 tons) of pecans every year, accounting for about 20-30 percent of Georgia's total annual output of pecans.
To satisfy Chinese consumers' demands, the company used to buy pecans from other growers. The Chinese market accounted for 90 percent of the company's total sales revenue.
However, increased tariffs are eroding Hudson's business expansion in China, costing him millions of dollars in losses and the whole pecan industry more than 10 million dollars.
"It's been very, very difficult to be able to balance our income with our expenses under the burden of the tariff," said Hudson.
CALL FOR TRADE DEAL
The central-north U.S. state of Wisconsin boasts a century-long history of growing ginseng and makes up about 10 percent of the global ginseng output.
Some 70-80 percent of the state's annual output was exported to China, where ginseng roots are consumed both as medicine and food.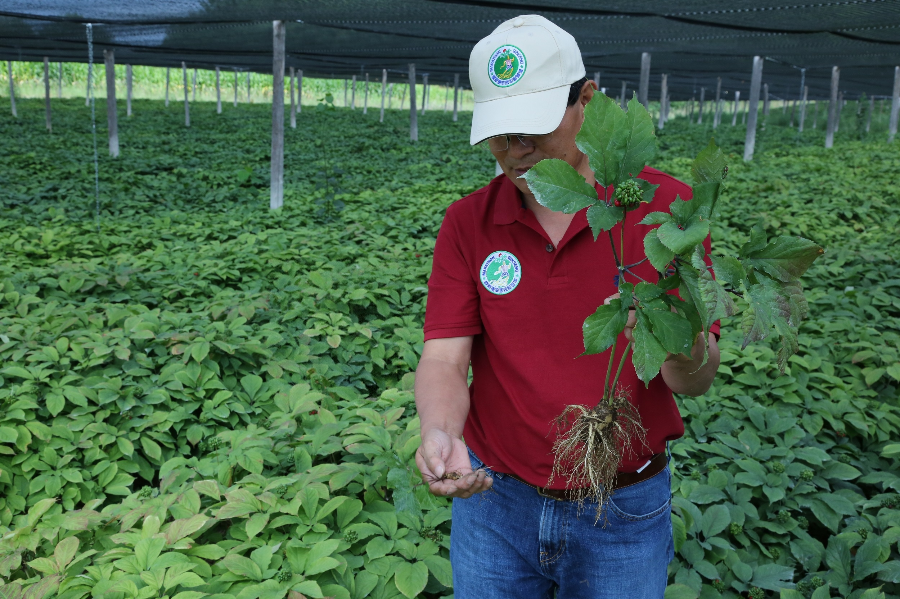 Ginseng grower Jiang Mingtao examines a three-year old ginseng on his farm in Marathon County, Wisconsin, the United States, Aug. 13, 2019. (Xinhua/Liu Yanan)
As the U.S.-initiated trade disputes unfolded, tariffs imposed on American ginseng soared to about 50 percent -- a nightmare for 2,000 ginseng producers in Wisconsin's Marathon county.
In normal years, all ginseng harvested in the previous year could sell out by March. Whereas in August this year, despite a discount, half of Wisconsin's ginseng produced last year was still in stock.
Though the U.S. government has offered farmers 5,700 dollars per acre (0.4 hectare) in subsidies, that is merely 10 percent of the costs of growing ginseng and thus helps very little, said Jiang Mingtao, a ginseng grower in Marathon.
Jiang, founder and president of Marathon Ginseng International, said the retail sales of ginseng decreased 30 percent this year in the county.
Likewise, pecan grower could not rely on subsidies to make ends meet.
"We are waiting eagerly for a trade deal to be signed between China and the United States, and we hope tariff reduction on ginseng will be included in the deal," Jiang told Xinhua, adding that a free and fair trade is what farmers are hoping for.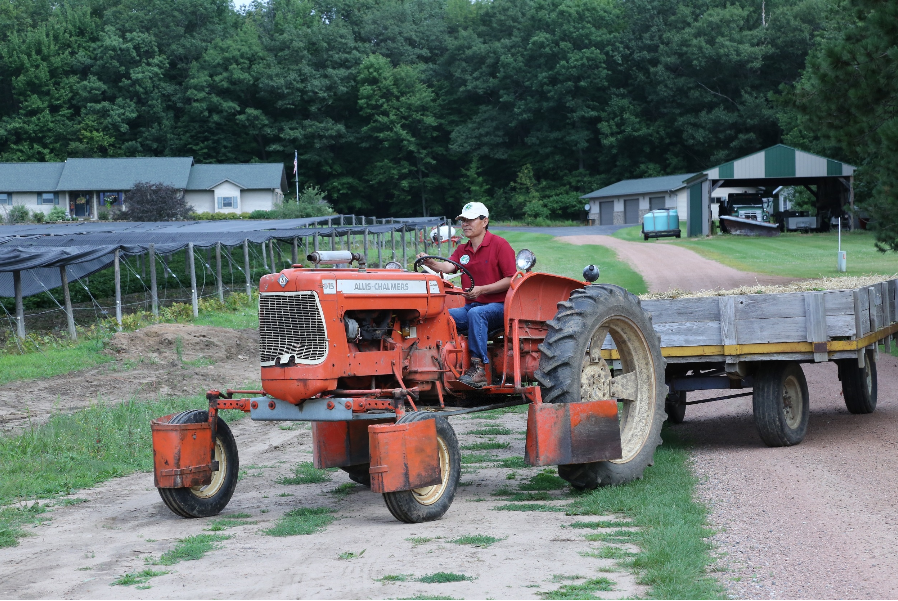 Ginseng grower Jiang Mingtao drives a tractor to inspect his ginseng farmland in Marathon County, Wisconsin, the United States, Aug. 13, 2019. (Xinhua/Liu Yanan)
Lenny Wells, professor and extension horticulture specialist for pecans at the University of Georgia, said the huge potential of the Chinese market once helped push up pecan prices.
However, the price of in-shell "Desirable" dropped from 2.9-3.05 dollars per pound (about 0.4 kg) to 2.15-2.4 dollars per pound last year.
He said most growers hope to see China and the United States eventually reach a trade deal before long.
One concern is that if the disputes lasted for too long, China will forget about U.S. pecans, Wells said. "We hope it's resolved sooner than later."
Janice Dees, executive director of U.S. Pecan Growers Council representing around 10,000 pecan growers, told Xinhua that the whole industry hopes what is known as a "phase-one" trade deal between Beijing and Washington can bring good news to pecan growers.
She said the industry attaches importance to China. "We look forward to going back to doing business very soon."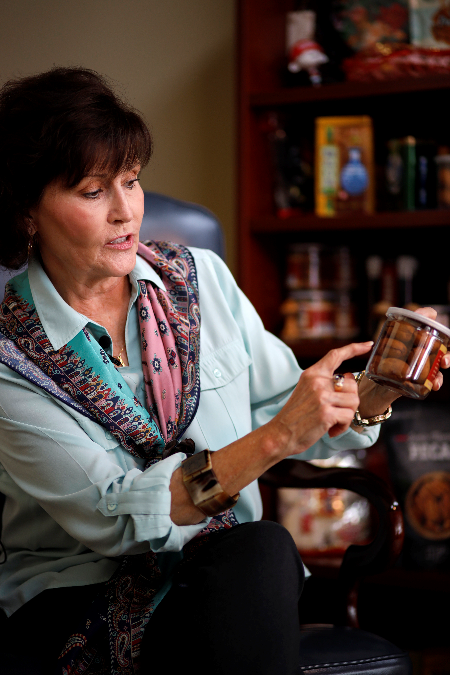 Janice Dees, executive director of U.S. Pecan Growers Council, speaks during an interview with Xinhua in Tifton, Georgia, the United States, Oct. 25, 2019. (Xinhua/Li Muzi)
ENGAGEMENT WITH CHINESE CONSUMERS
While calling for a trade deal, farmers have been maintaining contact with Chinese importers and consumers.
Jiang's partner from the eastern Chinese province of Zhejiang represented Marathon Ginseng International at the second China International Import Expo (CIIE) held in Shanghai on Nov. 5-10.
By exhibiting wild ginseng and grown ginseng gift boxes, ginseng cosmetics, ginseng liquor and others, the company managed to attract Chinese consumers and signed 300,000 dollars worth of ginseng contracts.
Ellis Bros. Pecans Inc., a well-known U.S. pecan grower, processor and retailer from Vienna city, Georgia, has been working for more than a year under the Georgia Grown project to sell its packaged shelled pecans on China's e-commerce platform JD.com.
With the help of the Georgia Grown project, a marketing and economic development program by the Georgia Department of Agriculture, Ellis Bros. and two other brands are now able to sell about 20 products of pecan to Chinese consumers, including those with flavors of sea salt, habanero BBQ, maple and cajun, among others. (Xinhua Correspondents Xu Jing, Miao Zhuang contributed to the story; Video reporters: Zhang Mocheng, Yang Shilong, Pan Lijun, Chang Yuan, Zhang Yichi, Liu Yanan, Wang Wen; Video editor: Luo Hui.)