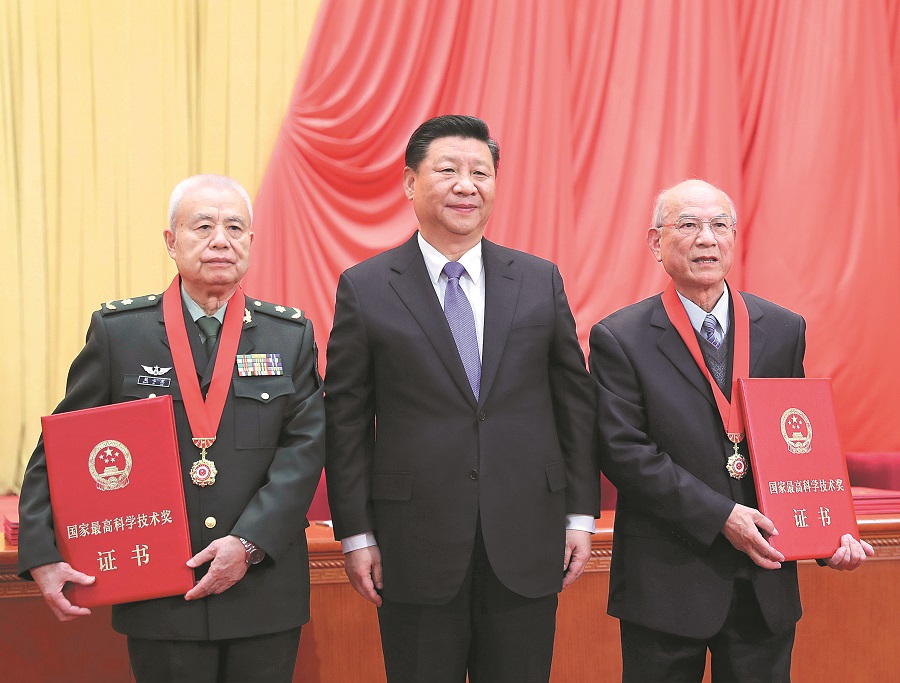 President Xi Jinping stands with national top science award winners Liu Yongtan (right) and Qian Qihu after Xi presented them with medals and certificates at the Great Hall of the People in Beijing on Tuesday. [Photo/Xinhua]
Experts in radar, underground defenses among those recognized at ceremony
President Xi Jinping presented China's top science award to Liu Yongtan, a radar expert, and Qian Qihu, a defense engineer, for outstanding contributions to scientific and technological innovation on Tuesday.
Xi, also general secretary of the Communist Party of China Central Committee and chairman of the Central Military Commission, awarded them medals and certificates at an annual ceremony in Beijing to honor distinguished science, engineering and research achievements.
The two honorees were invited to take seats in the front row of the rostrum after they received medals and certificates from Xi.
Liu, 82, an academician at the Chinese Academy of Sciences and the Chinese Academy of Engineering, made great contributions to modernizing maritime radar systems.
Qian, 81, also an academician at the CAE and one of China's top military engineers, distinguished himself in building underground defense infrastructure. Qian is also a noted expert in designing and building tunnels for civilian transportation.
A total of 278 science projects and seven experts, including five foreigners, were recognized with the national science award this year.
Premier Li Keqiang expressed congratulations on behalf of the CPC Central Committee and the State Council to those who received the award.
Under the strong leadership of the CPC Central Committee with Xi at the core, China's scientific innovation has produced new achievements in the past year while facing a complex global situation and arduous tasks of reform, development and stability, Li said.
The premier pledged to further implement the strategy of innovation-driven development and speed up building an innovative country under the guidance of Xi Jinping Thought on Socialism with Chinese Characteristics for a New Era.
Li said that basic research should be given a more prominent place with long-term and stable support from the government.
Li vowed to grant science researchers more independent power in their use of technologies and funds and the transfer of their academic results.
He said enterprises should be encouraged to increase innovation. As long as enterprises have the vitality to innovate, China's economy will boom, Li said. He also pledged to speed up building a system to create, protect, use and serve intellectual property, fight against infringement and counterfeiting activities, and invigorate society's innovation potential.
President Xi Jinping stands with national top science award winners Liu Yongtan (right) and Qian Qihu after Xi presented them with medals and certificates at the Great Hall of the People in Beijing on Tuesday.