Chinese firms are poised to modernize leather production in Ethiopia with an industry chain, technology and training
Since Chen Junling was hired to help run China-Africa Overseas Leather Products in Ethiopia four years ago, she has seen Chinese business executives visit the company every month in search of business opportunities in the country's leather industry.
Few, however, end up investing in the country, which has the richest livestock resources in Africa as well as low labor costs. Last year, a friend of hers opened a leather handbag factory but gave up half a year later.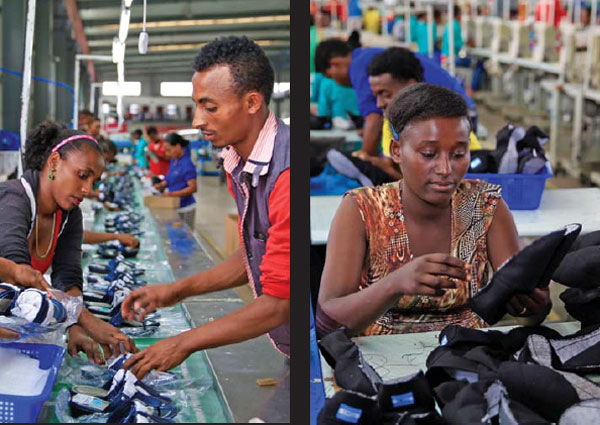 Workers pack shoes and check the quality of shoes at the factory of Huajian in Ethiopia. Photos Provided to China Daily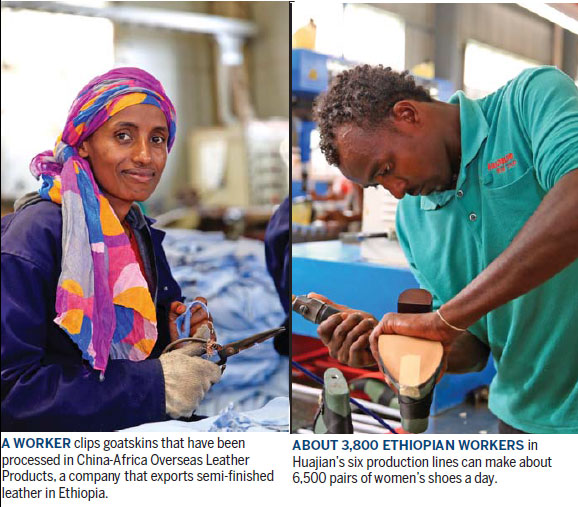 Part of the problem is that the industrial chain in the country is incomplete, says Chen, vice-president of the tannery, which the parent company in Central China's Henan province opened in 2010 in Sululta, a town north of the capital, Addis Ababa.
"They were unable to find leather goods for the quality, pattern and style needed for handbags, and they had to import a lot of components, including zippers, cloth and thread," narrowing profit margins, she says. The leather products from Chen's company are mainly used for garments, gloves and footwear.
The situation is expected to change soon, however, thanks to a series of Chinese investments to complete the country's leather industry chain. Part of the capacity of China's developed leather industry will be relocated to Ethiopia, with at least one light industry park dedicated to leather.
Industrial cooperation is one of the 10 major plans to boost cooperation with Africa that China plans to roll out in the coming three years, President Xi Jinping announced in December at the Johannesburg Summit of the Forum on China-Africa Cooperation.
Ethiopia has been chosen as a pilot country for industry relocation from China to Africa.
Completing the Ethiopian leather industry chain is expected to attract more Chinese businesses, helping Ethiopia add more value to its leather products, creating more jobs, and bringing in more badly needed foreign exchange.
Ethiopia's livestock was estimated to include 44.3 million cattle, 23.6 million sheep and 23.3 million goats, according to a 2013 report by the Ethiopian Leather Industry Development Institute. It also put the country's annual production at 3.1 million cattle hides, 7.8 million sheepskins and 8.2 million goatskins.
The Ethiopian government is eager to add more value to this resource to obtain more foreign exchange.
This is because fulfilling Ethiopia's acute need for large infrastructure projects takes a very large proportion of its limited foreign exchange reserves, and its trade balance also limits the availability of hard currency.
But exports of high value-added leather products remains small, and it still has to spend its limited foreign exchange to import components and accessories.
The Ethiopian Leather Industry Association has 58 members and about half of them are tanneries, says association secretary general Abdissa Adugna. Though there also are downstream companies, including footwear, gloves and other leather article companies, they are not very competitive and their production and exports are small, he says.
The downstream leather companies in Ethiopia are also having problems similar to those faced by Chen's friend. Local companies still have to import shoe accessories from Europe, Adugna says. The country depends on imports when it comes to packaging and chemicals for leather processing as well, says Yigzaw Assefa, managing director of Bahirdar tannery.
Chinese investment in the country's leather industry is helping change things, but there is yet much to be done.
Huajian International Shoe City (Ethiopia) Plc, which opened its operation in Ethiopia in 2012, has earned more than $50 million in foreign exchange for Ethiopia. Around 3,800 Ethiopian workers in its six production lines can make about 6,500 pairs of women's shoes a day.
"Huajian is really perfect. We like Huajian very, very much because it has brought many technologies to Ethiopia," Adugna says.
Local tanneries are supplying raw materials to the company, and Huajian's higher standards push local companies to improve, he adds.
Song Yiping, deputy general manager of Huajian, says local companies previously couldn't make molds for shoe soles and had to import them from Italy at high cost. "Now they can buy the mold directly from us with birr (Ethiopian currency) instead of foreign exchange," he says.
While training workers in Ethiopia, Huajian also has sent about 200 Ethiopian workers to China for training. Now 60 to 70 percent of Huajian's local managerial personnel are from that group.
Huajian is well positioned to help enlarge the country's industrial chain. Its headquarters is in Dongguan in China's southern Guangdong province, home to hundreds of shoe companies and related factories.
In April 2015, Huajian began the construction of a light industry park in Addis Ababa. The leather industry park is expected to be complete in 2020.
"Once completed, many upstream and downstream companies in the leather industry will be situated in the park," he says. Plans call for all industries related to shoemaking - including PU leather (split-hide leather coated with polyurethane and embossed), faux suede, mold making, textile, printing and packaging companies - to be included in the park, to help make end products like shoes, gloves and garments for export.
With many labor-intensive industries likely to relocate to the park, it is expected to generate 60 percent of Ethiopia's footwear and garment products, Song says.
The park and its supporting facilities would employ 100,000 people, he says.
Plans call for a school with the capacity to train about 5,000 students a year. "It is very necessary as it could avoid the high cost of spot training."
The school not only would train skilled shoemakers, but also secretaries, mold makers, computerized numerical control operators, printers and IT workers.
The supporting facilities, including hotels, shopping malls, schools, exhibition centers and office buildings would be built around the park and trade companies are to be brought in.
With a total investment of $400 million, it is expected to earn $2 billion of foreign exchange a year for Ethiopia, Song says.
Chen from China-Africa Overseas says Huajian's efforts to complete the industry chain is good news since her company would have customers much closer than those in China.
She says global trade woes have hurt her company, which is currently outputting 5,000 pieces of leather, one-third of its capacity.
The company now mainly exports semi-finished leather and further processing is done elsewhere to meet the customer's specific needs.
"If the industry chain in Ethiopia is completed, we could add more investment for deep processing in Ethiopia. That would save us a lot and reduce the cost for our downstream companies," she says.
The monthly salary for an Ethiopian worker is usually from 300 to 500 yuan ($46 to $77), while in China it is more than 2,000 yuan.
"Chinese companies are importing semi-processed items and finished leather from Ethiopia. If they come here, they will enjoy cheap labor, and economic and political stability. They will benefit from free trade tariff agreements between Ethiopia and European countries and the US. If the Chinese come, they will have plenty of advantages and they will be more competitive than they can be in China," says Assefa at Bahirdar tannery.
Still, Chinese companies should keep their eyes open to a variety of challenges, businesspeople suggest.
Song from Huajian says the training costs for his company are high, and even then inexperienced workers sometimes cost the company.
In February alone, the company lost 200,000 yuan from defective products. The inefficiency of new workers can result in delivery delays, and customers usually ask for delivery by air at the factory's expense to ensure the goods arrive in time, Song says.
The company also has to pay to improve the underdeveloped infrastructure around their light industry park, including the roads and power supply.
houliqiang@chinadaily.com.cn