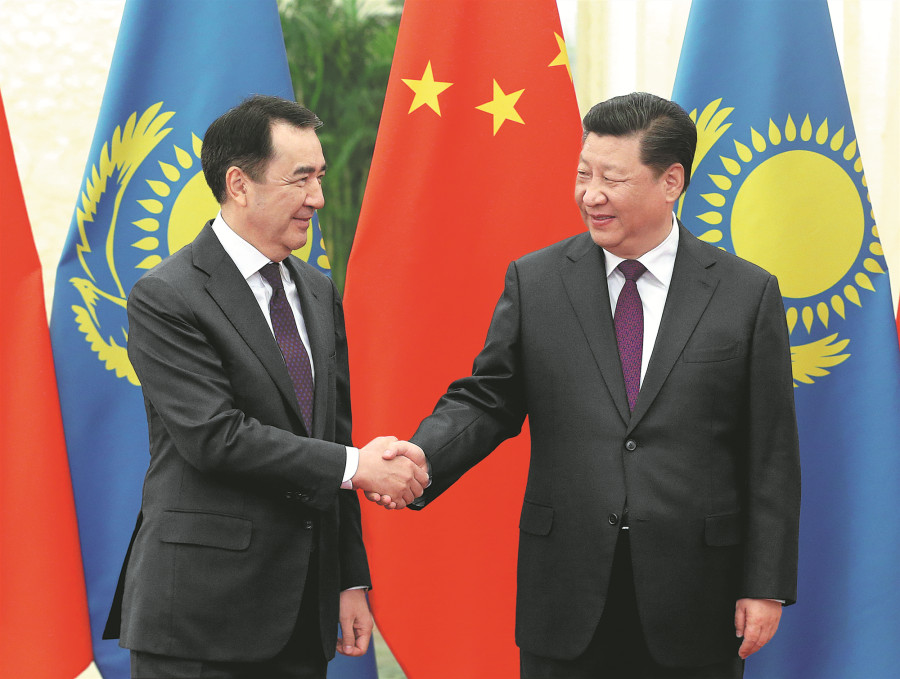 President Xi Jinping meets with Kazakh Prime Minister Bakytzhan Sagintayev in the Great Hall of the People in Beijing on Thursday. WU ZHIYI / CHINA DAILY
Xi urges further synergy of vision, cooperative plans in various areas
President Xi Jinping called for enhanced alignment between the Silk Road Economic Belt and Kazakhstan's Bright Road initiative through stronger policy coordination and more thorough cooperation.
The president made the statement when meeting with visiting Kazakh Prime Minister Bakytzhan Sagintayev on Thursday in Beijing.
Xi said he has maintained closer exchanges and reached many consensuses with Kazakh President Nursultan Nazarbayev, and these consensuses are being implemented by both governments. China attaches great importance to its relations with Kazakhstan, values the Central Asian neighbor's people-centered development concepts and supports its taking a path in line with its own national conditions, he said.
The Silk Road Economic Belt is part of the Belt and Road Initiative. This year marks the fifth anniversary of the initiative, which has injected new momentum into the global economy, Xi said.
China appreciates Kazakhstan's firm support for and active participation in the initiative, he said.
In the next step, the two countries should strengthen policy coordination and make thorough plans for cooperation in diverse fields, Xi said.
China is a good neighbor, a close friend and a strategic partner of Kazakhstan, said Sagintayev. The Silk Road Economic Belt, which Xi proposed five years ago in Kazakhstan, plays a vital role in strengthening regional connectivity, coping with global challenges, safeguarding world peace and stability, and promoting co-development and prosperity, he said.
He said President Xi likened the Chinese economy to "an ocean", and he hopes "the ship" of bilateral cooperation can sail on this ocean.
Premier Li Keqiang also held talks with his Kazakh counterpart, Sagintayev, before they witnessed the signing of a number of cooperative documents covering areas such as digital economy and customs clearance.
In their talks, Li said cooperation between the two countries is expanding, which can be demonstrated by cooperative documents in production capacity, investment and the digital economy.
China is willing to further align the Belt and Road Initiative with Kazakhstan's development strategies and to expand cooperation in energy and other emerging fields, Li said.
A new bilateral agreement on investment protections should be accelerated to provide legal support for investors, Li said. He called for stronger coordination under multilateral frameworks, such as the Shanghai Cooperation Organization, to safeguard multilateralism and the free trade system.
Sagintayev said his country is willing to strengthen alignment of the Bright Road with the Belt and Road Initiative, and deepen cooperation in trade, investment, production capacity, agriculture, energy and other fields.
Bilateral trade hit $18 billion last year, an increase of 37 percent year-on-year, the Foreign Ministry said. In the first eight months this year, the number reached $12.5 billion, up 18.3 percent compared with the same period last year.