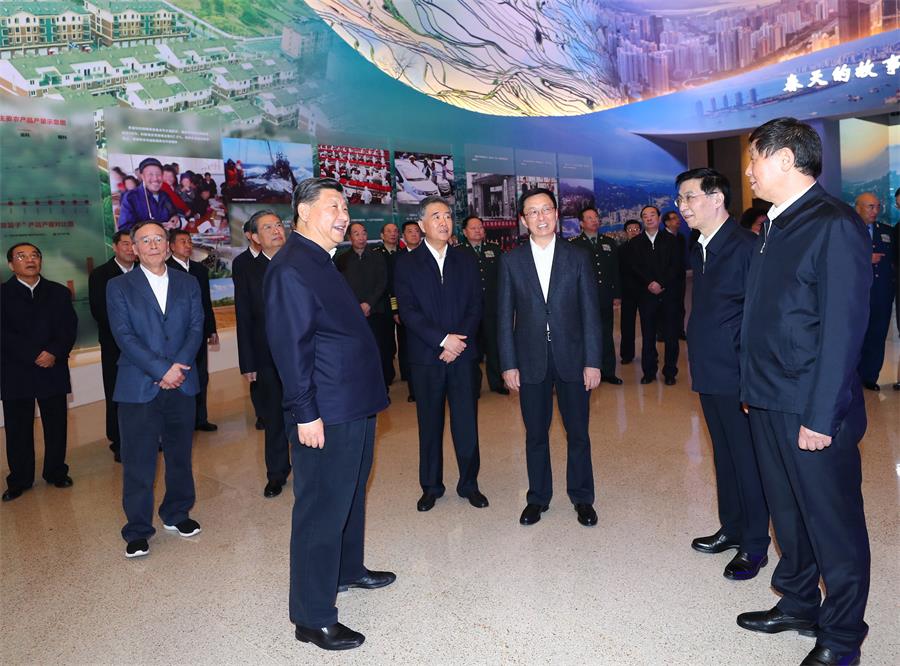 President Xi Jinping, also general secretary of the Communist Party of China Central Committee and chairman of the Central Military Commission, visits a major exhibition commemorating the 40th anniversary of China's reform and opening-up at the National Museum of China in Beijing on Tuesday. XIE HUANCHI / XINHUA
Exhibition aims to boost efforts by entire nation
President Xi Jinping called on people of all ethnicities to have strong confidence and resolve to deepen reform and opening-up under the leadership of the Communist Party of China.
Xi, also general secretary of the CPC Central Committee and chairman of the Central Military Commission, made the remark on Tuesday while attending a major exhibition to mark the 40th anniversary of China's reform and opening-up at the National Museum of China in Beijing.
The Chinese people, led by the CPC, have made great achievements through hard work in the past four decades since reform and opening-up began, Xi said. Great changes have taken place in China since then, he added.
The Party's 19th National Congress, held in October last year, drew up the blueprint for the country's future development, Xi said, adding that socialism with Chinese characteristics will definitely have a better future as long as China continues to deepen reform and opening-up.
The exhibition uses historical photos, texts, videos, miniature models and interactive activities to show visitors the great process during which the Chinese nation has stood up, grown more prosperous and become stronger.
The exhibition should be used to educate officials and people to better understand the great power of the Party, the people, and socialism with Chinese characteristics, Xi said.
Through the exhibition, officials and the people should have a better understanding of the Party's theories, reform and opening-up policy, and the strategic measures of reform, Xi said.
The exhibition is expected to encourage Chinese people and boost their confidence and resolution toward socialism with Chinese characteristics and reform and opening-up, Xi added.
On Tuesday morning, Wang Huning, a member of the Standing Committee of the Political Bureau of the CPC Central Committee, announced the opening of the exhibition.
Wang called for efforts to rally more closely around the CPC Central Committee with Xi at the core, hold high the banner of reform and opening-up in the new era, and deepen reform and opening-up with greater confidence and stronger measures.
Contact the writer at anbaijie@chinadaily.com.cn