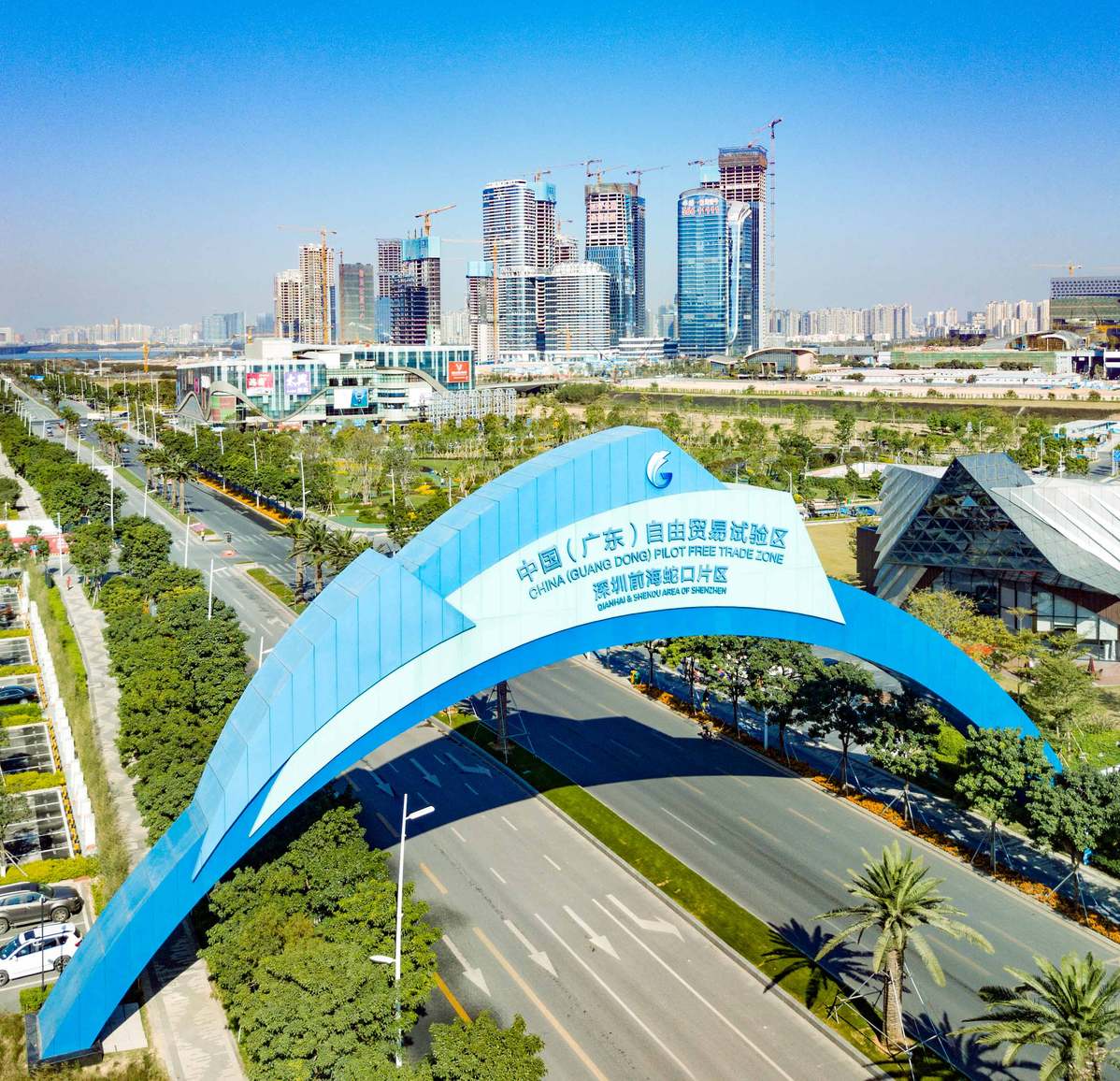 A view of Qianhai and Shekou Area in the China (Guangdong) Pilot Free Trade Zone.[Photo provided to chinadaily.com.cn]
Coordinated planning, innovation sought to boost reform, opening-up
President Xi Jinping has called for more coordinated planning, reform and innovation to develop China's pilot free trade zones into new leading areas of reform and opening-up for the new era.
In an instruction released on Wednesday, Xi, who is also the general secretary of the Communist Party of China Central Committee, urged more effort to free people's minds and proactively explore ways to keep raising the level of development for pilot free trade zones.
The instruction came as a meeting was held in Shanghai on Wednesday to mark the fifth anniversary of the development of pilot FTZs in China. The country unveiled its first pilot FTZ in Shanghai in September 2013.
Xi said the development of free trade zones is a strategic measure adopted by the CPC Central Committee to push forward reform and opening-up, and the development of pilot FTZs is a milestone in reform and opening-up.
In the past five years, pilot FTZs have been dedicated to implementing decisions and plans made by the CPC Central Committee and they have remained enterprising and courageous in order to achieve breakthroughs, he said.
He said work related to the zones has seen major progress. A large number of innovative results at the institutional level are being promoted nationwide, making the zones a testing ground for comprehensive deepening of reform.
Xi said more work should be done at pilot FTZs to summarize and evaluate progress and to generate more institutional innovation outcomes that can be applied nationwide.
Premier Li Keqiang said in an instruction to the meeting that what pilot FTZs have achieved over the past five years must be recognized.
Reform and opening-up at pilot FTZs should be moved forward with greater attention paid to identifying underlying problems and structural issues, he said.
It is important to step up coordinated planning and systematic synergies in reform and continue to focus on institutional innovation so that new strengths in development and competitiveness can be created, he said.
Vice-Premier Han Zheng, who presided over the meeting on Wednesday, said exploration and trials at pilot FTZs must serve the national strategy and stimulate market vitality through institutional innovation.
Han also highlighted the importance of speeding up the transformation of government functions, furthering reform to streamline approval procedures for businesses and deepening negative-list reform.
The central government has established 12 pilot FTZs nationwide, where reform measures such as streamlined business registration and easier access to administrative services are tested before being promoted nationwide.