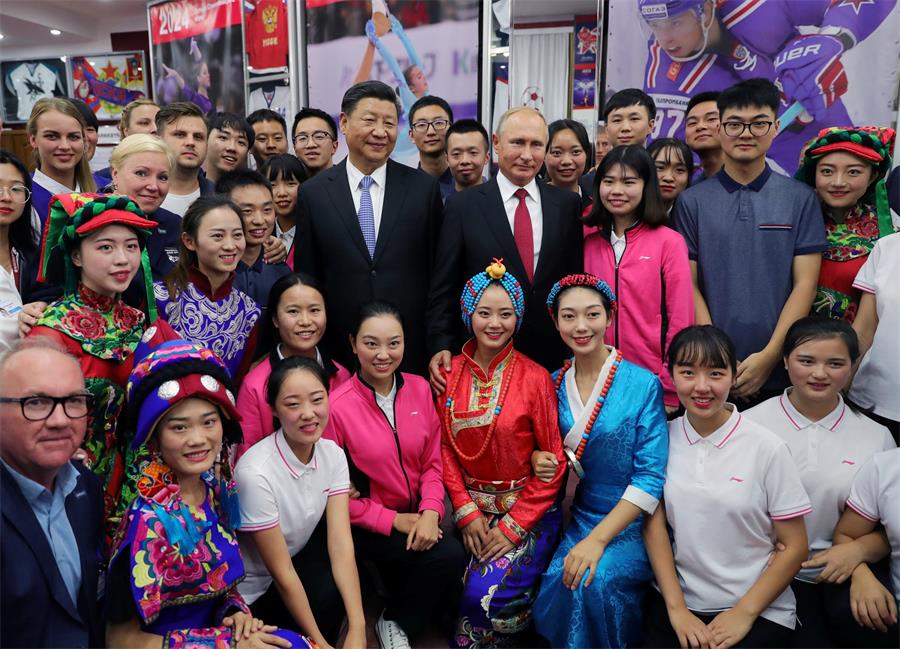 President Xi Jinping and Russian President Vladimir Putin pose with performers and the audience after a presentation at the Ocean All-Russia Children's Care Center in Vladivostok, Russia, on Wednesday as part of exchange activities among youths of the two nations. MIKHAIL KLIMENTYEV / SPUTNIK
President calls for promoting trust, connectivity, free trade in region
China would like to expand cooperation in the Far East of Russia and the rest of Northeast Asia to sustain development and increase common interests, President Xi Jinping said on Wednesday.
Xi made the remark while delivering a speech at the plenary session of the fourth Eastern Economic Forum in Vladivostok, Russia.
Northeast Asian countries should boost mutual trust and safeguard regional peace and stability as they face the rise of unilateralism and protectionism, Xi said.
Remarking that the population of Northeast Asia's six countries accounts for 23 percent of the global population and the region's GDP accounts for 19 percent of the global economy, Xi said that a united and stable Northeast Asia would meet the interests of all countries in the region.
The region has ample energy and resources, world-class capacity in scientific research and bountiful capital and human resources, Xi said. The six countries are capable of making full use of their advantages and enhancing cooperation in all areas, he said.
Xi called on the Northeast Asian countries to boost synergy of development strategies, saying that China and Russia have achieved an early harvest in connecting the Belt and Road Initiative with the Eurasian Economic Union.
The Northeast Asian countries should focus on boosting interconnectivity across borders, improving free trade and investment facilitation, promoting the flow of goods, capital and technology and jointly building an open regional economy, Xi said.
China supports the Asian Infrastructure Investment Bank and the Silk Road Fund playing a bigger role in providing financial support for regional cooperation, Xi said.
Also, Xi told a story about a Chinese student who fulfilled his dream in Russia. Xi Junfei, a student who survived the 2008 Wenchuan earthquake, was invited among more than 1,500 survivors between ages 9 and 14 to recuperate in Russia.
The student set a goal to study in Russia, and now he is a student at Far East Federal University, the president said, calling it a vivid example of friendly people-to-people exchanges in the region. The story received warm applause from the audience.
At the session, Russian President Vladimir Putin said that the Far East region is the priority for the development of Russia. Warning that trade protectionism is rising, Putin said that the region's countries should discard political bias, achieve win-win cooperation and participate in development on the basis of competition.